Companies of all sizes are able to benefit from technology as a data-driven prescription for improvement in productivity.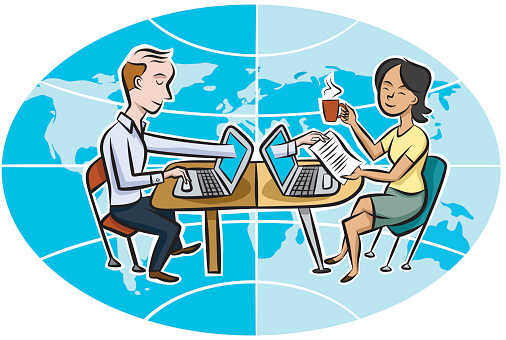 If you talk to many business professionals, there is a consensus that advancing technology is the future for successful firms and industries alike. Productivity and employee engagement are paramount to a company's success, and emerging technologies are recognising and capitalising on these industry needs. In fact, the two often go hand in hand, with technology serving as a bridge between, as well as facilitating a more cohesive drive towards unified goals, within the organisation.
With the proper hardware and software tools in place, companies can identify specific organisational challenges and strategically plan for improved results. Businesses of all sizes are able to benefit from technology as a data-driven prescription for improvement. Let's examine the particular advantages of technology in the workplace.
Transparency
Regardless of industry, company size, or goals for the future, transparency on every level is the most critical component to an organisation's success. Transparency offers management teams insight into which processes, business tools, and assets are working, and which aren't, and provides the data to back it up. It ensures every member of the workforce understands the company's goals and their role in ensuring those goals are met.
Through technology such as software, hardware, and mobile devices, our business tools are now able to better communicate both with each other, and our workforce, ensuring our workers are supported both now and into the future.
Collaboration
Organisations striving for long-term success realise the value of teamwork and collaboration. "Teams are made up of individuals, but the synergy that a team can generate to become far greater than the sum of its parts is what makes great teams" ~John Bowen, Chair of BIFM's Procurement Sig.
For optimal fluidity in collaboration, there must be a consistent flow of information at all times. Fortunately, today's management teams have access to a bevy of technological tools that not only enhance but inspire teamwork and collaboration. Successful business leaders must leverage such technology to empower their workforce and colleagues.
Flexibility
Your workforce should strive to be able to perform under adverse and changing conditions. Often the best preparation for such tasks is to have your team regularly work outside of the parameters of normal company office settings. With the addition of technology in the workplace, employee flexibility is at an all-time high, allowing workers to range outside of the office, while still sending and receiving vital information.
With mobile employees, problems can be met literally face-to-face. Plus, the tenants of transparency and collaboration are greatly strengthened through increased, regular contact between team members, even when miles apart. This continual flow of ideas and solutions strengthens your team, the decision-making process, and the overall effectiveness of your business.
Enhanced Employee Engagement
A 2014 Global Workforce Study, "more than 60% of employees are unsupported, detached or disengaged". With over half the workforce disengaged, management teams recognised the need to implement tools that achieved transparency, collaboration, and flexibility. Tech tools supply a much-needed switch to the typical office routines. With regards to the immediacy in which social media gives feedback, a similar workflow model is currently developing and growing amongst the professional business community. The end result – a more engaged and productive workforce.
Improved Efficiency
Equally as critical to an organisation's success is its access to relevant, real-time information. Recent advances in technology allow disparate software systems to communicate with each other. Management teams have a clearer understanding of how the facility's space and assets are being utilised and maintained. Realistic goals are defined and tracked.
Employee success is monitored, allowing employees to be redirected to different roles should their talents be better used elsewhere. With this kind of precise monitoring, employees also avoid needlessly repeating tasks while finding more time to complete specific tasks, adding to the overall enjoyment of the workplace environment.
Tracking and Analysing Performance
One of the hidden gems of progressive management is to empower employees to progress through their own system of goals. Technology allows employees and management alike to follow productivity trends for individuals, teams, and organisations. In turn, individual goals can be tracked and, despite the staunchest opponent's objections, we all want to compete on some level.
With the ability to assist, monitor, and streamline workflow for maximised production, technological solutions have signalled the epoch of a new era in business. There is truly a new method of communicating, conducting business and interacting with customers, which is blossoming before our eyes. This tool must be used with planning and purpose, though, to avoid wasting such a valuable resource. Conduct thorough research, design the proper system for your specific needs and set your wheel in motion.
Embracing the Digital Transformation for Enhanced Productivity
Embracing technology in the workplace is no longer a luxury but a necessity. As we've explored in this article, technology can significantly enhance productivity, streamline operations, and foster innovation. However, leveraging technology effectively requires a strategic approach and an understanding of the tools that best align with your business goals.
At Inspired IT, we're committed to helping businesses navigate the digital landscape and harness the power of technology to drive growth and success. Whether you're looking to improve communication, automate tasks, or enhance collaboration, our team of experts is here to provide personalised solutions that meet your unique needs.
Don't let technology challenges hold your business back. Reach out to us today to learn more about how we can help you unlock the full potential of technology in the workplace. Let's work together to create a more productive and efficient future for your business.