Cloud migration is no longer a trend but a fundamental shift in the way businesses operate. Understanding what moving to the cloud entails and why a strategic approach is vital can be the difference between success and failure in today's competitive landscape.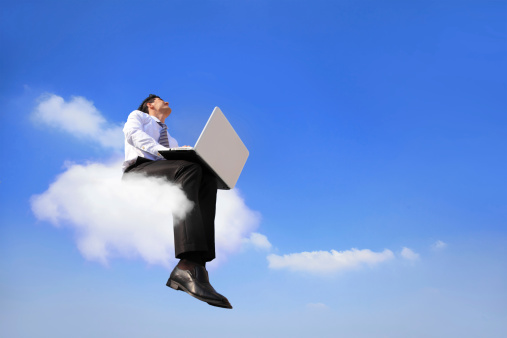 What is Cloud Migration?
Cloud migration encompasses the transition of a company's digital assets, services, databases, IT resources, and applications into the cloud. This migration can be partial or complete, and it may also involve moving from one cloud environment to another.
For many businesses, the decision to migrate to the cloud comes from the need to move away from outdated and inefficient legacy infrastructures. This includes:
aging servers,
unreliable firewall appliances,
or hardware and software solutions that no longer operate to their full capacity.
The cloud offers a modern alternative, providing the benefits of cloud computing and enabling businesses to enhance their performance and efficiency.
Cloud migration is not just a technical process; it's a strategic move that requires careful analysis, planning, and execution. Ensuring compatibility with your business requirements is paramount. It's not just about reaching the cloud but optimising what you do once you're there. For example, rebuilding applications to perform optimally in the cloud is a critical consideration, leading many companies to explore application modernisation.
The journey to the cloud raises many questions, and businesses of all sizes often seek professional help to navigate this complex process. Whether it's through lift-and-shift cloud migration capabilities or classic modernisation services like automated language translation and conventional re-platforming, service firms play a vital role in facilitating successful cloud migration.
In essence, cloud migration is a multifaceted process that goes beyond mere technology. It's about aligning with business goals, embracing innovation, and positioning the organisation for future success.
Understanding Cloud Migration Strategies
Different migration strategies suit different business needs. Common strategies include:
Lift-and-Shift: where applications are moved without modification.
Refactoring: where applications are rearchitected for the cloud.
Choosing the right strategy depends on various factors, including cost, performance, and business objectives. Understanding the role of cloud service models like SaaS (Software as a Service), PaaS (Platform as a Service), and IaaS (Infrastructure as a Service) is crucial in this decision-making process.
Why Companies Are Moving to the Cloud
There are many benefits of cloud migration. From cost savings to enhanced agility, companies are leveraging the cloud to stay ahead of the curve. The future of cloud migration looks promising, with continuous innovation and growth.
Challenges and Risks in Cloud Migration
While the rewards are significant, cloud migration is not without its challenges. Compliance, security, and potential data loss are some of the risks that must be carefully managed. A well-thought-out strategy can mitigate these risks, ensuring a smooth transition to the cloud.
5 Things to Consider During Your Cloud Migration
1. What are your goals?
Doing it becauseyou've seen other businesses doing it is ok, but you will want to have your business goals for cloud migration clear. For example, "We will have 80% of our database in cloud computing virtual servers, which will save us X dollars, and boost productivity by 30%." There are many goals that can be reached by utilising cloud services. Figure yours out, write them down, and pin them to the wall, with the entire office cognisant of them.
2. Decide just how much storage you need.
You don't want to walk into this like you're on a Vegas weekend after getting paid. Cloud services can be pricey, even if they do offer long-term savings as part of the cloud perks. Sit down with your accounting team and carve out a budget for cloud storage based on exactly what the company needs. Visualise it, get it in writing, and implement it into your budget before you go grabbing cloud storage server space like it's going out of style.
3. Have the maximum Internet bandwidth possible.
This is a very important point: You DO NOT want to be stuck with cloud services operating on degraded or minimal bandwidth. It's like watching your favourite movie on a lower page load speed. You don't like watching that wheel spinning as your video loads, so why would you want that when using cloud services? Have the adequate internet bandwidth to match the amount of cloud storage, software, and service you've contracted for, so hair-pulling won't approach becoming an Olympic event for you.
4. Cherry-pick the cloud services you want.
You will probably want Office 365. And some kind of Software as a Service (SaaS) provider, though you will want to designate exactly how much space you will need. Beyond that, you can prudently select the kinds and amount of cloud services you require. With the cloud computing service industry spiking, both time and money are of the essence. Choose your particular services well, and pair them up with your business model and data centre needs like you're choosing the right living space for your needs and habits.
5. Make sure your on-boarding and off-boarding clause is reasonable.
Here's another big one. This is one that is often overlooked in the race and excitement of obtaining cloud services: Don't get stuck in a contract that gives you no leeway, should you become dissatisfied with the services. Make sure you have a reasonable off-boarding or out clause in the contract that you can cite if or when you become unhappy or feel overwhelmed by your cloud services contract. A good IT services company will work with you and consider your reasons for getting out, not hem you in with a cost-prohibitive contract.
The Role of Innovation and Agility in Cloud Migration
Cloud migration is not just about moving data; it's about enabling business innovation. The flexibility and scalability offered by the cloud foster agility, allowing businesses to adapt to market changes and seize new opportunities.
Understanding what a cloud migration strategy entails is essential for any business looking to leverage the power of the cloud. Strategic planning, careful execution, and continuous monitoring are key to a successful migration. Whether you're just starting your cloud journey or looking to optimise your existing cloud infrastructure, a well-defined strategy is your pathway to success.
At Inspired IT, we specialise in guiding businesses through this critical transformation. Our team can tailor a cloud migration strategy that aligns with your unique business goals and ensures a seamless transition. Don't leave your cloud migration to chance; partner with Inspired IT and experience the benefits of a professionally managed and executed migration.